It is said that the formation of Upminster Hall Lodge all began at the nineteenth hole of the local golf club. Some 30 or so Masons expressed initial interest in the proposed Lodge, and the first preliminary meeting took place on Friday 11 January 1957 at the golf club.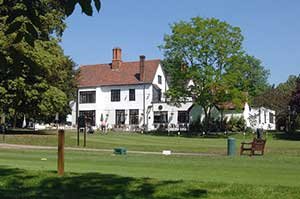 The proposition to form a new Lodge was carried unanimously and it was reported that St. Laurence Lodge No. 5511 had agreed to be the sponsors. Three of the Founders were residents of Hornchurch and 20 were residents of Upminster.
It was agreed that the venue would be the new Masonic Hall in Deyncourt Gardens, Upminster, and meeting dates were specified.
Names considered were Greyfriars Hunting Lodge, Branfil, Upminster and Hazard Lodge (a golfing reference) but Upminster Hall, being in the Hundred of Chafford, and belonging to the Monks of the Holy Cross of Waltham as far back as 1062, was the favourite.
Upminster Hall Lodge No. 7573 was consecrated on Friday 7 March 1958 at Freemasons' Hall, Great Queen Street, by RW.Bro. the Rev. Canon R. Stafford Morris, Provincial Grand Master, assisted by W.Bro. Dr. A. G. Duncan, Deputy Provincial Grand Master and three APGMs. 146 Brethren were in attendance and approximately 124 dined afterwards at the Connaught Rooms.
The first recorded mention of the Upminster Hall Lodge of Instruction was on 6 February 1959, when a proposition was made in open Lodge. It met variously at the Masonic Hall, Upminster, the Masons Arms, St. Mary's Lane, and the Red Cross HQ in Branfil Road, until it moved to its present home at the Upminster Golf Club.
During recent years it has been customary for Brethren of Upminster Hall Lodge to primarily support and join St Helen & St Giles Chapter No 9133, which meets at Upminster Masonic Hall. This has been considered preferable to forming an additional Chapter.